Like making a year-end list of best records, creating a list of one's favorite is a silly yet necessary exercise. Silly because who really cares? Necessary because everybody's doing it. In no particular order, here are beers that were either released this year, discovered by me this year, or finally made sense to me this year. I apologize upfront for the IPA-heavy list. I'm a hop head and have trouble remembering what I thought about most sours, stouts, Saisons, etc.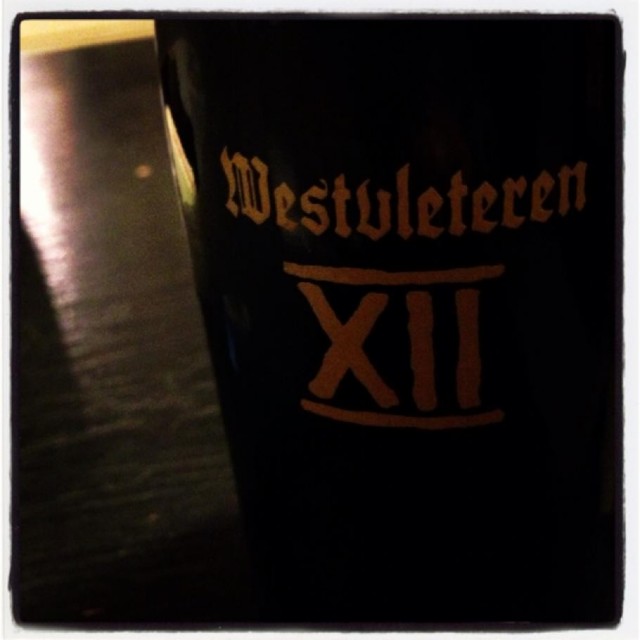 Trappist Westvleteren 12
I've had Westy before, but it was a small sample at the end of an evening of craft beer debauchery. My bother "won" one of those lottos just to get a chance to buy and $85 six pack. He shared as family is wont to do over the holiday. Half a bottle was more than enough for me to fully appreciate what many consider to be the best beer in the world. I don't know about all of that or even if it's the best Belgian quad, but it's very very good.
Goose Island King Henry
This may have been released in 2011, but we never saw it locally. One evening in Lincoln, Nebraska at an excellent pizza joint offered me the opportunity to try this magnificent beast.
Bells Black Note Stout
I should not have had a glass of this beer, but I did. A sample was sneaked to me as I had to leave a Bells dinner. Imagine the molasses-fueled deliciousness of Expedition, mixed with the sweetness of a milk stout, and brewed in bourbon barrels. Even then, you can't imagine how glorious this beer tasted.
Three Floyds Zombie Dust
I love me some APA's but this one is on another level. So much Citra. So good.
Stone Ruination Tenth Anniversary IPA
Specially released IPA's from Stone are all over my list. This one featured an amped-up version of what was my epiphany beer, if that was even possible… Of course it was! This was as good a tribute as any brewery has ever brewed.
Stone Enjoy By 12.21.12 IPA
I actually preferred this one to the September version. It's possible this one was fresher, but both were consumed well before their best by dates. The idea of a ridiculously fresh IPA is nothing new, but this release made it a priority. There's no way one of these will ever sit on shelves too long. I hope they continue to brew Best By IPA's.
Cantillon Lou Pepe Kriek (2008)
Obviously, this beer was not from this year, but I finally opened it and was glad I did. No one does lambics and sours like Cantillon. Probably no other more obvious sentence has ever been uttered regarding beer. Lou Pepe was no exception. I suspect the aging altered the beer, but I doubt I wouldn't have loved it a couple of years ago.
Boulevard Rye-On-Rye
This one is on the brain as I just picked up the latest release of this great Smokestack Series brew. I always liked this beer but never really got it until this year. I don't know whether that's trying so many inferior rye beers or just the ongoing development of my palate, but it's so rich and so good. Aside from Boulevard's Saison Brett (another all-time favorite that could make this list every year), this is one of the true Missouri craft beer treasures.
The Bruery 5 Golden Rings
I stumbled upon one of these at a Whole Paycheck the day before Xmas Eve and figured it would make the perfect Xmas dinner drink. And it did. No one outside of these guys and Stillwater consistently make beers that go better with food. I was lucky I paced myself of this one would have put me under the table.
Broadway Brewery Columbus Single Hop IPA
Never in my wildest dreams would I have figured a beer brewed here in Columbia, MO would make a list like this, but this one stacks up. I'm sure the freshness factor comes into play here, but I dragged a growler nine hours to Ohio, another three to Cleveland – all of it in a cooler that was probably not properly chilled and a growler that was not properly filled to the top – and the beer survived. Hell, it did better than survive. It was downright delicious.
Odell The Meddler Oud Bruin
I had nearly given up on Odell's special releases, but this one was decently priced and I like to try anything new in this style. The beer was beautiful from appearance to aroma to the all-important flavors within. It paired well with whatever I was eating that night. This beer renewed my faith in Odell.
Schlafly Tasmanian IPA (TIPA)
Schlafly has been experimenting with different varieties of hops, mostly through special keg-only releases and cask ale. Still, this one was a nice little surprise. It's one of those beers that nails the hoppiness hop heads are always after, causing us to want to drink one after the other.
Millstream Great Pumpkin Imperial Stout
This is how pumpkin ale should be done. Screw the pumpkin pie and sour varieties. Put your pumpkin in an imperial stout or Baltic porter! As an imperial stout, it's not my favorite. However, it made me rethink pumpkin beers just as I was writing them off.
Treble Kicker Beer New Slang Saison
My own Saison is easily one of my favorites. I upped the ante with this year's version for my partner's tenure celebration. More lemon zest and rosemary = a punch in the face Saison that is not playing around. Add in some dry-hopped Sorachi Ace hops and you have a lemon bomb/balm that needs to brewed again and soon.
Stone 16th Anniversary IPA
This one was met with many mixed reviews, but I loved the twist this one offered some lemon verbena and rye-induced spice that made for one of the more interesting/surprising beers this year.
Deschutes Chainbreaker White IPA
Why isn't the white/wheat IPA more popular? Because no one wants to take on Deschutes' hold on hoppy beers. No one hops a beer like Deschutes. No one.
Tallgrass 8-Bit Pale Ale
This was my beer of the summer. Refreshingly hoppy goodness in a can carried me through record-setting heat, including a 30-mile bike ride.
Green Flash Rayon Vert
I'm not sure how long this beer has been around, but it made its first appearances in middle-Missouri earlier this year and I'm sure glad it did. Another twist on the IPA (this time with Belgian love), Rayon Vert became the "heavy" beer of summer.
Stillwater Debutante
What can I say that hasn't already been said before about Stillwater's excellence. I could put any of their beers on this list every year. Still, this one made its debut in 2012 and I for one welcome it to the best lineup of Saisons this side of Belgium.
Firestone Walker Wookey Jack
The Black IPA/Cascadian Dark Ale continues to dig out a niche in craft beer and Firestone's entry is no different than the best of the style.
Deschutes Chasin' Freshies
Did I mention Deschutes' mastery of the hop. This fresh-hopped IPA and its fresh-hopped APA cousin (Hop Trip) do what fresh/wet-hopped beers are supposed to: capture the essence of Dionysus' underwear… or something like that.
Mikkeller Royal Rye Wine
Most of the Mikkeller releases I enjoyed this year were not all that new to me. However, the experience surrounding the Royal Rye Wine made this possibly the most memorable beer of the year. Read more about it here.
What did I forget? What would you add? Disagree or agree with any of these?
The following list is based on my anticipation for cracking open the following beers. I may have some beers that are rated better or that I may actually like more, but this is more of a list that highlights some oddball beers and beers I just can't wait to open. Some I've had already, but some will be new to me once I open them in the coming months or years.
5. Allagash 2010 Odyssey and 2009 Interlude – The Odyssey was scored in a Yankee Swap last Xmas. I have no idea what's inside. The Interlude was found while on a business trip in Richmond, VA. Again, I have no idea what's inside. Anything barrel aged and produced on a small scale by one of the more respected American craft breweries has me intrigued. Now, if they're terrible, the brewery's mystique will fade. However, I suspect these beers will be pretty awesome.
4. 2009 Alaskan Barley Wine – Someone told me that they had this beer and vintage at a beer festival recently. It was the hit of the fest according to this one guy, but I trust his opinion. That's why this beer's days are numbered and I'll be cracking it open at some point this winter.
3. Never Forget Barley Wine – This was the barley wine I had planned for my daughter's first birthday. I didn't get around to brewing and bottling until a few months after her birthday, but quite a bit of it has been consumed, leaving me with only two bottles. At some point, I'll open one to see what happens. The other may have to wait until a significant birthday. 18? 21? We'll see.
2. Cantillon Lou Pepe – This one I just bought this past week. At $22, several factors are at play. First, I could only justify buying one as I had already purchased three bottles of something else that day. So, I will have no idea what it tastes like. This may mean that this one has a short stay in the cellar/closet. Second, the high price point makes me hesitant to just open it for any old reason. Regardless, it will be saved for a special occasion, of which there will be plenty with the oncoming holiday season.
1. Stone Vertical Epic Series – With 11/11/11 happening, another in the series of beers not meant to be consumed until after 12/12/12 hits stores this week. My sister's birthday happens to be December 12th and the goal is to consume as many of these as possible – in a commemorative glass – on or more likely after her birthday next year. We're now one year and beer closer. I currently have '08-'10. My sister grabbed a bottle of '11, but I may grab another when it arrives here next week just to be sure. It will be a surprise no matter what the beers taste like. Hopefully they all do stand the test of time.
The Hopry is starting a new series where they list top-5 beers that fill a particular need. The first post in the series focused on the top-5 beers you should always keep in the fridge. You can see their list and eyeball mine below. After that, I'm also including a list of top-records to always have around.
Keep in mind that these might not be the five best beers/records. The idea is to have every need covered with just the five selections. While I recognize my fives don't have everything for everyone, it's still my house. This is what I have to offer.
So, check it…
5 Beers for the Fridge
Boulevard Tank 7 Farmhouse Ale – Saisons are a versatile alternative to the over-hopped/hyped IPA's and dirty, dirty stouts. They are light with a touch of tartness and spice, perfect for pairing with fish and/or poultry. This is easily one of my favorite saisons. Now that it's available in 12 oz. bottles[1], it's easy to keep some on hand for any occasion. I considered sticking The Bruery's Saison Rue in this slot, but The Bruery is not available in Missouri and they only come in 750 mL bombers.
Ska Modus Hoperandi – One has to have a hopbomb around, right[2]? Modus is quickly replacing spots in fridges around Middle Missouri that were once held down by Bell's Two-Hearted Ale[3]. The fact that this beer comes in a can makes it perfect for this list. Cans tend to keep IPA's better than bottles and they're easily stored. I eventually want a beer fridge and have fantasized filling the "can dispensers" in those things usually reserved for PBR and Coke Zero with some Modus.
Bell's Expedition Stout – This is maybe my favorite beer. Bigger, blackerer, and full of molasses[4], Expedition is a go-to imperial stout that should be in every fridge and beer closet. Besides sipping on the good stuff, I periodically make ice cream out of this Texas (via Michigan) tea. The best part is that the ice cream recipe leaves me a half bottle to finish as I churn the creamy concoction.
Cantillon Kriek – I considered New Belgium's La Folie for the token sour stand-by, but that only comes in bombers. Cantillon is the fine wine of the beer world and they sell their beers in smaller bottles for a somewhat affordable treat[5]. This beer fills the sour need as well as showing your guests that fruit does belong in beer from time to time.
Dogfish Head[6] India Brown Ale – This is the only beer not readily available in Missouri, but I try to have it around as much as possible. Besides being a really great beer, IBA is the perfect beer to pair with almost any food, especially those of the greasy, meaty variety. I essentially proclaimed that the most perfect pairing ever was a Booches burger and a DfH IBA and I still stand by that assertion[7]. The combination of hops cutting through grease and sweet malty goodness balancing the richness of the meat is too good not to experience at least once.
As you can see, my beer list is pretty diverse. The records didn't turn out that way, but my taste in music is much, much narrower than my taste in beers. Just look at the blog's title[8]. I identify a band but refer to beer in general. That can tell you a lot about this blog. Now, on to the records…
5 Records for the Turntable
Neutral Milk Hotel In the Aeroplane of the Sea – This is an absolute classic that will hold down a spot on my overall top-5 every time. No other record is as good a discussion starter as Aeroplane. Aesthetically, it has some folky acoustic guitar, trumpet flourishes, love for our lord and savior Jesus Christ… Really, everyone should own this album[9].
A Tribe Called Quest The Low End Theory – You need dance music? Wanna kick it old school? Your only black friend is over for dinner[10]? Drop the needle on this hip-hop classic and let the groove take over. Not only does your cred go up a notch for actually owning  hip-hop record, but you own one of the most revered and highly decorated albums of all time.
Pavement Quarantine the Past – Put this one on for your kids and explain that this is what the nineties sounded like. Normally, I'd put a specific Pavement album (or possibly their entire catalog) on this list, but Quarantine the Past is a near-perfect compilation that spans the group's run quite nicely. Now, you can expose your friends to Pavement without making them sit through every 7″ and reissue extra[11].
Slint Spiderland – At this point, my musical biases have gone over the top. Nearly all the nineties essentials are now covered with Spiderland joining the party. However, this album is diverse enough to handle both a dark mood and the end-of-the-evening comedown. That and like Aeroplane, this record offers plenty about which to talk. "Did you know that Will Oldham took the picture on the cover?" "Did you know that PJ Harvey answered the band's call for a female singer in the liner notes?" "Did you know that there's a children's book created for the final track?" This record is a discussion-starter for sure.
Animal Collective Merriweather Post Pavilion – Want to lighten the mood while simultaneously raising the discourse in the room? Put on Merriweather Post Pavilion, one of the most cerebral dance records of the last decadea[12]. Plus, you can stare at the "moving" record sleeve all night long.
What are your five to always have on hand? Are my musical tastes too narrow? Leave a comment or three.
Notes:
1Interestingly, for those who are not familiar, Tank 7 is part of the Smokestack Series, celebrating Boulevard's famous smokestacks bearing their name. The original series came exclusively in tall, like smokestack-tall 750 mL bottles. So, the move to 12oz. bottles was awkward, but Boulevard pulled it off beautifully as they chose a taller, sleeker 12 oz. bottle.
2This is rhetorical. Of course one must always have a hopbomb in the fridge/cellar. I have been known to go buy an IPA or DIPA even though I have a cellar full of perfectly good beers simply for the purpose of insuring that I have at least one hoppy beer around. And those are the beers I consume the quickest, so it makes sense to always have some around. Don't question the logic. Go out and buy an IPA right now.
3Two-Hearted is still a perfectly acceptable option here, but Modus is newish around these parts and it comes in cans.
4I like bourbon, oak/vanilla, and chocolate in my imperial stouts, but molasses brings it. This preference is possibly due to my dad's practice of pouring brown sugar all over his Cheerios. Yes. You read that correctly. The best part was when you came to the end and had nothing left but creamy brown sugar.
5The 750 mL bombers run in the $30 range. So, ten bucks for 12 oz. of really, really good beer is sometimes justified.
6Dogfish Head has been taking it on the chin as of late. It's most likely a backlash from the Brew Masters debacle/nondebacle. Let's get this straight. Dogfish Head makes some of the best, if not most interesting beers in craft beer. Additionally, founder Sam Calagione has maybe done more for the growth in craft beer aside from anyone named Michael Jackson or Jim Koch.
7Seriously, I challenge you to find another better pairing. Do it. Until you've had this pairing, you won't ever understand the food and beer pairing. This is the standard. See if you can exceed it.
8It does seem to me that I judge music based on degrees of Pavement. I'm OK with that.
9In fact, I know several people who own it but don't appreciate it. I suggest for those who don't get it (and this may very well go for any so-called classic record) that they should read the book in the 33 1/3 series to get the context. If you can't appreciate Aeroplane after that, there's nothing I can do for you.
10Oh, I know my demographic: middle-class white folk who can't seem to rid themselves of white guilt. It's okay. Embrace your racism. I've made peace with mine.
11Doing so would be a perfectly acceptable practice as well.
12I don't like dance music. So, I'm sure you could name a better dance record. Still, this album would have to be in your top-10 of the last decade.