Like making a year-end list of best records, creating a list of one's favorite is a silly yet necessary exercise. Silly because who really cares? Necessary because everybody's doing it. In no particular order, here are beers that were either released this year, discovered by me this year, or finally made sense to me this year. I apologize upfront for the IPA-heavy list. I'm a hop head and have trouble remembering what I thought about most sours, stouts, Saisons, etc.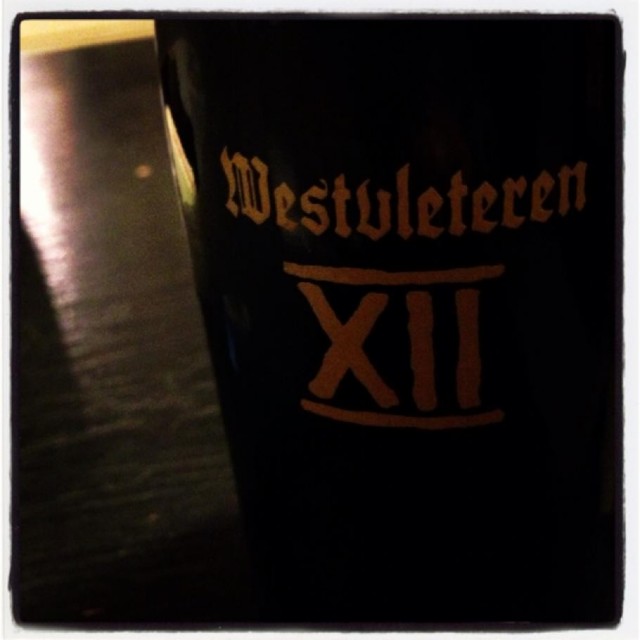 Trappist Westvleteren 12
I've had Westy before, but it was a small sample at the end of an evening of craft beer debauchery. My bother "won" one of those lottos just to get a chance to buy and $85 six pack. He shared as family is wont to do over the holiday. Half a bottle was more than enough for me to fully appreciate what many consider to be the best beer in the world. I don't know about all of that or even if it's the best Belgian quad, but it's very very good.
Goose Island King Henry
This may have been released in 2011, but we never saw it locally. One evening in Lincoln, Nebraska at an excellent pizza joint offered me the opportunity to try this magnificent beast.
Bells Black Note Stout
I should not have had a glass of this beer, but I did. A sample was sneaked to me as I had to leave a Bells dinner. Imagine the molasses-fueled deliciousness of Expedition, mixed with the sweetness of a milk stout, and brewed in bourbon barrels. Even then, you can't imagine how glorious this beer tasted.
Three Floyds Zombie Dust
I love me some APA's but this one is on another level. So much Citra. So good.
Stone Ruination Tenth Anniversary IPA
Specially released IPA's from Stone are all over my list. This one featured an amped-up version of what was my epiphany beer, if that was even possible… Of course it was! This was as good a tribute as any brewery has ever brewed.
Stone Enjoy By 12.21.12 IPA
I actually preferred this one to the September version. It's possible this one was fresher, but both were consumed well before their best by dates. The idea of a ridiculously fresh IPA is nothing new, but this release made it a priority. There's no way one of these will ever sit on shelves too long. I hope they continue to brew Best By IPA's.
Cantillon Lou Pepe Kriek (2008)
Obviously, this beer was not from this year, but I finally opened it and was glad I did. No one does lambics and sours like Cantillon. Probably no other more obvious sentence has ever been uttered regarding beer. Lou Pepe was no exception. I suspect the aging altered the beer, but I doubt I wouldn't have loved it a couple of years ago.
Boulevard Rye-On-Rye
This one is on the brain as I just picked up the latest release of this great Smokestack Series brew. I always liked this beer but never really got it until this year. I don't know whether that's trying so many inferior rye beers or just the ongoing development of my palate, but it's so rich and so good. Aside from Boulevard's Saison Brett (another all-time favorite that could make this list every year), this is one of the true Missouri craft beer treasures.
The Bruery 5 Golden Rings
I stumbled upon one of these at a Whole Paycheck the day before Xmas Eve and figured it would make the perfect Xmas dinner drink. And it did. No one outside of these guys and Stillwater consistently make beers that go better with food. I was lucky I paced myself of this one would have put me under the table.
Broadway Brewery Columbus Single Hop IPA
Never in my wildest dreams would I have figured a beer brewed here in Columbia, MO would make a list like this, but this one stacks up. I'm sure the freshness factor comes into play here, but I dragged a growler nine hours to Ohio, another three to Cleveland – all of it in a cooler that was probably not properly chilled and a growler that was not properly filled to the top – and the beer survived. Hell, it did better than survive. It was downright delicious.
Odell The Meddler Oud Bruin
I had nearly given up on Odell's special releases, but this one was decently priced and I like to try anything new in this style. The beer was beautiful from appearance to aroma to the all-important flavors within. It paired well with whatever I was eating that night. This beer renewed my faith in Odell.
Schlafly Tasmanian IPA (TIPA)
Schlafly has been experimenting with different varieties of hops, mostly through special keg-only releases and cask ale. Still, this one was a nice little surprise. It's one of those beers that nails the hoppiness hop heads are always after, causing us to want to drink one after the other.
Millstream Great Pumpkin Imperial Stout
This is how pumpkin ale should be done. Screw the pumpkin pie and sour varieties. Put your pumpkin in an imperial stout or Baltic porter! As an imperial stout, it's not my favorite. However, it made me rethink pumpkin beers just as I was writing them off.
Treble Kicker Beer New Slang Saison
My own Saison is easily one of my favorites. I upped the ante with this year's version for my partner's tenure celebration. More lemon zest and rosemary = a punch in the face Saison that is not playing around. Add in some dry-hopped Sorachi Ace hops and you have a lemon bomb/balm that needs to brewed again and soon.
Stone 16th Anniversary IPA
This one was met with many mixed reviews, but I loved the twist this one offered some lemon verbena and rye-induced spice that made for one of the more interesting/surprising beers this year.
Deschutes Chainbreaker White IPA
Why isn't the white/wheat IPA more popular? Because no one wants to take on Deschutes' hold on hoppy beers. No one hops a beer like Deschutes. No one.
Tallgrass 8-Bit Pale Ale
This was my beer of the summer. Refreshingly hoppy goodness in a can carried me through record-setting heat, including a 30-mile bike ride.
Green Flash Rayon Vert
I'm not sure how long this beer has been around, but it made its first appearances in middle-Missouri earlier this year and I'm sure glad it did. Another twist on the IPA (this time with Belgian love), Rayon Vert became the "heavy" beer of summer.
Stillwater Debutante
What can I say that hasn't already been said before about Stillwater's excellence. I could put any of their beers on this list every year. Still, this one made its debut in 2012 and I for one welcome it to the best lineup of Saisons this side of Belgium.
Firestone Walker Wookey Jack
The Black IPA/Cascadian Dark Ale continues to dig out a niche in craft beer and Firestone's entry is no different than the best of the style.
Deschutes Chasin' Freshies
Did I mention Deschutes' mastery of the hop. This fresh-hopped IPA and its fresh-hopped APA cousin (Hop Trip) do what fresh/wet-hopped beers are supposed to: capture the essence of Dionysus' underwear… or something like that.
Mikkeller Royal Rye Wine
Most of the Mikkeller releases I enjoyed this year were not all that new to me. However, the experience surrounding the Royal Rye Wine made this possibly the most memorable beer of the year. Read more about it here.
What did I forget? What would you add? Disagree or agree with any of these?
The Beer Babe had the following mission to propose for this month's session:
Your mission – if you choose to accept it – it so seek out and taste two different pale ales. Tell us what makes them special, what makes them forgettable, what makes them the same or what makes them different…
I have to admit that the pale ale is not currently my favorite style of beer. Extreme beer has me roped in, but I also like other, more diverse styles of beer. The pale ale is just so plain, so run of the mill these days. Everyone brews a pale.
It hasn't always been that way. I used to exclusively order pale ales, particularly Columbus Pale Ale back in the day. It was so bitter and fulfilling compared to the macro lagers of my youth that I couldn't imagine anything more flavorful. When I was lucky enough to try a flight at a brewery, the pale ale was what I used to judge a brewery's quality. The pale was king until it's Indian cousin (and his imperialist friend) came along and changed my life forever.
Still, I wanted to participate in this month's session. With a summer holiday arriving just before, I figured that I had ample opportunity to try some pale ales and put together a post. The two pales I landed on were Deschutes Red Chair NWPA and Tallgrass 8-Bit Pale Ale.
Now, before some beer purists get their boxers in a bunch, I recognize that these beers are technically considered American pale ales (APA). This was purposeful. I prefer the sharp bite of hops over biscuit-y sweetness more prevalent in the British version. So, most pale ales don't typically do it for me. Now, I don't need to be knocked upside the head at all times by hop bombs, but some fruity, piney aromas and bitterness provided by American hops is one of the things that dragged me into the craft beer world. So, this is as close as I'll get to trying two pale ales so closely together*.
The first of the two APA's I tried was the Deschutes Red Chair NWPA. It was a nice evening at the community garden. Most of the kids in the 'hood had just finished their last day of school and so we threw a little barbecue. I grabbed a sixer of Red Chair and even "slummed it" by drinking from the bottle.
At 6.4% ABV and 60 IBU, this beer teeters on the edge of being another great northwestern IPA. However, it goes down much smoother, almost too smooth as I had three before having to drag my kid (and myself) home for her bath. This beer is a gentler, kinder IPA, something I always hope for in a pale ale, even if it makes the purists cringe. Even from the bottle, I could enjoy this beer's pine forest aroma. It's just a great and easy drinking beer for a beer geek with some extreme beer fatigue. Mind you, that's not extreme beerfatigue. I'm talking about extremebeer fatigue. Those are two very different things.
Later in the weekend, my daughter and I embarked on a 60-mile (round trip) bike ride split by a night of camping and live music, better known as the Pedaler's Jamboree. The featured beers of the fest were those canned creations from Tallgrass. One such beer was waiting for me in a cooler at the end of the first day's ride: 8-Bit Pale Ale.
8-Bit's measurables put it much closer to your average pale ale (5.2% ABV, 40 IBU), but it's still at the high end of the spectrum. Everything Red Chair had, 8-Bit did subtler, but that wasn't a bad thing. After biking all day in 90+ degree heat, I was happy to have an easy drinking beer with just the right balance of sweetness, bitterness, and floral hoppiness.
And yes, I drank it out of the can. What else are you supposed to do when camping? Besides, how could anyone not love the cartoonish design adorning this 16 oz can? My daughter hoped she could have some but she was out of luck.
The tone of this month's session felt like a review was in order, but I don't really feel like ranking these beers or even comparing them. They're both dynamite examples of (American) pale ales. Red Chair screams Northwest with its piney aromas and 8-Bit comes off more citrusy like its Midwestern wheat-based brethren, but that's about as different as they get. Otherwise, both beers were smooth going down and made me reconsider my extremebeer pretensions. Whatever that means.
*It should be noted that I finished off a four-pack of Green Flash Rayon Vert not too long ago. That beer is considered a Belgian-style pale ale. I love this beer, but it felt as though it was cheating when this session was considered.