Crap. Where did the year go?
All I have done is taken several hiatuses in between some fairly mediocre blog posts. I would like to tell you 2015 will be different, but why lie? It won't. I'll be a sporadic blogger as it seems to be my ultimate destiny. So, you'll forgive my momentary lapse in judgement when I thought a PhD was a good idea. You won't mind when I prioritize my job and career over my hobbies. And you'll give me a pass for being a parent of two who rarely gets a full night's sleep.
That said, I still found a way to consume and as you well know, consuming indie rock records and craft beer are what I do best when I'm not parenting or working. I didn't listen to nearly as much music as year's past, but I did drink a shit-ton of beer as my waist will attest. So, I have something to say about both topics.
The format will be a bit different than years past. Usually, I write a list of records and/or beers. Last year I opted not to rank my choices for the year. This year I will simply name some arbitrary categories to fill with some sort of commentary. Do with this list what you will. However, I hope you can find the time to comment and even throw some money at the good people I'm about to praise.
The 2014 Beer and Pavement Recognitions and Such – Craft Beer Division
"My New Favorite Series of Special Release Beers"
A year and a quarter ago, I made my the voyage to Mikkeller's home base(s) in Copenhagen. While there, I discovered that my favorite brewer can do lambics. And they don't just do your ordinary lambic. Nope. The "Spontaneous Series" from Mikkeller features tart beers flavored with not your average additives like the evasive species such as buckthorn or the elderflower which comes from the potentially toxic elder plant. There are more typical fruits such as peach and raspberries, but you shouldn't forget your root vegetables like beets(!). Mikkeller is known for pushing boundaries and styles, but with this series the boundaries are both stretched and strengthened like few brewers can do. I am not a completist, so I have yet to try all of these beers as they are pretty expensive and hard to find in this part of the country, but I buy one when I can and have enjoyed each immensely.
Close second: Stone's Enjoy By Series is the freshest DIPA's you'll find as long as you enjoy them by the date on the bottle. 4/20 was particularly good this year. Rumor has it there's an Enjoy After Series on the way which should be fun.
"Beer Style I Was Almost Over. Almost."
Bourbon barrel imperial stouts are a bit played out. I mean, bourbon is great. Imperial stouts are great. So, you can't possibly mix the two too often, can you? Guess again.
I grew so tired of anything bourbon-barrel aged and I like bourbon. A lot. However, aging every imperial stout in bourbon barrels gets old. The flavor is rich and often too sweet. It's an easy way to make a beer everybody wants, but I'm moving on.
Well, sort of. Tonight with roast beef, I cracked open Avery's Tweak. This is the bourbon barrel aged imperial stouts of bourbon barrel aged imperial stouts at 17% ABV and actual chunks of bourbon barrels in every bottle. Still, I don't know how much more bourbon barrel imperial stouts I can take.
"The Beer I Like With Food"
I once discovered the wonders of a Dogfish Head India Brown Ale and a Booches burger. Oh, the wonders of hops and malts with a greasy burger… Well, I found my new favorite beer with comfort food: Broadway Brewery's Backyard BBQPA. Yes, a smoked pale ale is not everyone's favorite, but Broadway brewed a beer that works with most of their menu, particularly anything smoked or meaty. I've had it with their burgers, pulled pork, and meatloaf sandwich. The mixture of malty sweetness and the bitterness of hops and smoke make for a nice beer to pair with fatty meats. I honestly don't know that I'd like this beer on its own, but it is fantastic with Broadway's excellent menu of locally-grown comfort foods.
"That Said, This Is My New Favorite Food-Beer Pairing"
Imperial stouts should be the only beer you ever serve with pie, especially a pie filled with berries. And don't even bother with the a la mode bullshit. An imp stout has your creamy sweetness covered. I recently rediscovered the wonders of this pairing when a friend baked us some pie with blackberries and I showed up with a 2013 Deschutes Abyss nine months past its best after date. Whoa. What a brilliant pairing if I do say so myself. The glorious things going on in my mouth that night were enhanced by some killer Spiegelau Stout glasses.
A close second: The curried chicken pot pie we had before this pie was paired with Against the Grain's Citra Ass Down DIPA and/or Stone's Best By 12/26/14 DIPA. It's hard to beat a perfectly balanced DIPA and spicy food. This isn't a case of I got really drunk recently and wanted to include the experience in my blog. No. It's an instance when perfect foods get matched with perfect beers and you all should know about it.
"2014's Mikkeller – I.E. My New Favorite Brewery"
I nearly chose Texas' Jester King Brewery, but I've followed them for a while and have always felt they were kindred spirits with the likes of Mikkeller, Evil Twin, Stillwater, The Bruery, etc. I was lucky enough to try quite a few of their beers at the SECraft Beer festival here in town where I sampled Snörkel, Detritivore, and Atrial Rubicite to name just a few of their excellent brews. They are now one of my top 3-4 breweries to gather while traveling to other beer markets.
That said, my new favorite brewery for this year goes to Prairie Artisan Ales, Sure, they are know for their various versions of Bomb!, yet another barrel-aged imperial stout, but I love their take on the saison as if it's the new "ale." Yes, I realize a saison is an ale by definition, but they like Stillwater treat the saison like it's a centerpiece yeast strain and not just a side-project. There's the Cherry Funk which is, well, funky. And there's the Birra Farmhouse Ale, Prairie Standard, Prairie Hop, Prairie Ale, Puncheon, and a silly number of other saisons. All of these beers are grassy and pair well with any white meat or salad.
"Best Session Beer"
We got ourselves a brand-new spanking brewery this year by the name of Logboat. They do some nice beers and throw some good parties. However, they do provide the parenting/driving beer enthusiast some nice options such as their (GABF silver-medal winner) Mamoot Mild Ale and Bear Hair Belgian Blonde. These beers come in just under 5% ABV, but the beer that I love is just over that mark. It's a wheat beer which are not always my favorite (except when they are hopped to hell). This beer features loads of ginger to help settle the stomach and awaken the tongue. Shiphead Ginger Wheat is the best session beer I've had this year. Sure, I enjoyed the IPA's put out by Stone and others, but this beer's gingery bite sets it apart from the rest.
"My Favorite Beer of 2014"
I could name so many new favorites from this past year like the ones above as well as Four Hands Alter Ego Black IPA, 3 Floyds War Mullet DIPA, Logboat/Four Hands Loghands Saison, Four Hands Cash Money, Founders Dissenter, Prairie's Bomb!, Crooked Stave Vieille Artisanal Saison, Three Taverns' White Hops, my own Aaawrange IPA and Smoke without Fire, Stone Go To IPA, Cigar City Marshal Zhukov's Imperial Stout (2013), Jackie O's Pub & Brewery Oil of Aphrodite, etc. I could also consider some old favorites that showed well again this year like Boulevard Saison Brett, Boulevard Love Child #4, Boulevard Rye on Rye, Bells Dark Note, Deschutes Hop Henge DIPA, Bells Hopslam, Mikkeller Citra, etc.
However, this year's favorite beer has to be the one I predicted almost three years ago. I wrote the following:
Dogfish Head Guided By Voices Heavy Lager – I once heard Bob Pollard proclaim on stage that he drinks "Bud Heavy" and not Bud Light. So, I think Dogfish Head needs to produce a "heavy" lager, maybe an imperial pilsner or high ABV bock of some sort and dedicate it to the reunited classic GBV lineup. I chose Dogfish Head because they've done this sort of thing before and there's a picture of Sam Calagione wearing a GBV t-shirt out there somewhere.
I was pretty close in my prediction and although I didn't correctly predict the name of the beer, I did name a two-episode web series the same as my beer of the year. This beer wasn't necessarily the best or even my favorite for taste, aroma, etc. This beer captured the connection between craft beer and indie rock I have been preaching about here when I actually find time to post.
That beer, of course, is Beer Thousand, the imperial lager Dogfish Head brewed in commemoration of the 20th anniversary of Guided By Voices' Bee Thousand. Never has a beer more perfectly deserved recognition on this blog than now. And somehow with the help of my brother (who happens to live in Dayton), I was able to score a 4-pack. The beer is excellent. It hides the booze well and defies the style. While it may not rank high in tartness or hoppiness, it certainly tastes like Bee Thousand sounds: gloriously lo-fi and bound to get you drunk.
Like making a year-end list of best records, creating a list of one's favorite is a silly yet necessary exercise. Silly because who really cares? Necessary because everybody's doing it. In no particular order, here are beers that were either released this year, discovered by me this year, or finally made sense to me this year. I apologize upfront for the IPA-heavy list. I'm a hop head and have trouble remembering what I thought about most sours, stouts, Saisons, etc.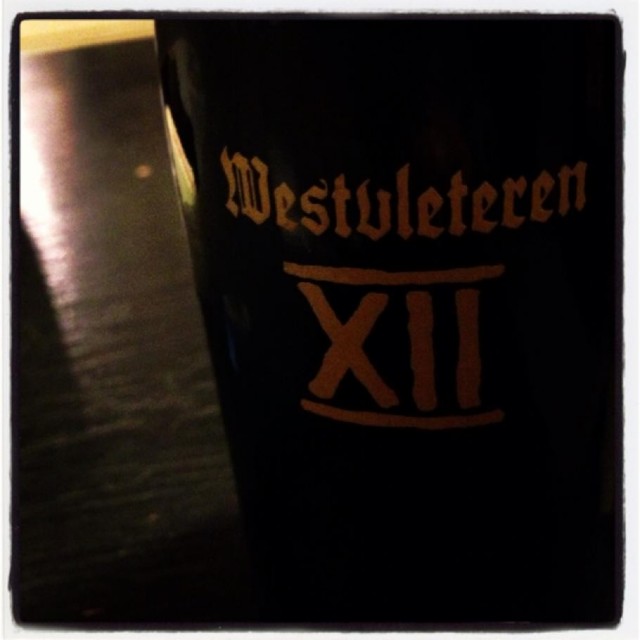 Trappist Westvleteren 12
I've had Westy before, but it was a small sample at the end of an evening of craft beer debauchery. My bother "won" one of those lottos just to get a chance to buy and $85 six pack. He shared as family is wont to do over the holiday. Half a bottle was more than enough for me to fully appreciate what many consider to be the best beer in the world. I don't know about all of that or even if it's the best Belgian quad, but it's very very good.
Goose Island King Henry
This may have been released in 2011, but we never saw it locally. One evening in Lincoln, Nebraska at an excellent pizza joint offered me the opportunity to try this magnificent beast.
Bells Black Note Stout
I should not have had a glass of this beer, but I did. A sample was sneaked to me as I had to leave a Bells dinner. Imagine the molasses-fueled deliciousness of Expedition, mixed with the sweetness of a milk stout, and brewed in bourbon barrels. Even then, you can't imagine how glorious this beer tasted.
Three Floyds Zombie Dust
I love me some APA's but this one is on another level. So much Citra. So good.
Stone Ruination Tenth Anniversary IPA
Specially released IPA's from Stone are all over my list. This one featured an amped-up version of what was my epiphany beer, if that was even possible… Of course it was! This was as good a tribute as any brewery has ever brewed.
Stone Enjoy By 12.21.12 IPA
I actually preferred this one to the September version. It's possible this one was fresher, but both were consumed well before their best by dates. The idea of a ridiculously fresh IPA is nothing new, but this release made it a priority. There's no way one of these will ever sit on shelves too long. I hope they continue to brew Best By IPA's.
Cantillon Lou Pepe Kriek (2008)
Obviously, this beer was not from this year, but I finally opened it and was glad I did. No one does lambics and sours like Cantillon. Probably no other more obvious sentence has ever been uttered regarding beer. Lou Pepe was no exception. I suspect the aging altered the beer, but I doubt I wouldn't have loved it a couple of years ago.
Boulevard Rye-On-Rye
This one is on the brain as I just picked up the latest release of this great Smokestack Series brew. I always liked this beer but never really got it until this year. I don't know whether that's trying so many inferior rye beers or just the ongoing development of my palate, but it's so rich and so good. Aside from Boulevard's Saison Brett (another all-time favorite that could make this list every year), this is one of the true Missouri craft beer treasures.
The Bruery 5 Golden Rings
I stumbled upon one of these at a Whole Paycheck the day before Xmas Eve and figured it would make the perfect Xmas dinner drink. And it did. No one outside of these guys and Stillwater consistently make beers that go better with food. I was lucky I paced myself of this one would have put me under the table.
Broadway Brewery Columbus Single Hop IPA
Never in my wildest dreams would I have figured a beer brewed here in Columbia, MO would make a list like this, but this one stacks up. I'm sure the freshness factor comes into play here, but I dragged a growler nine hours to Ohio, another three to Cleveland – all of it in a cooler that was probably not properly chilled and a growler that was not properly filled to the top – and the beer survived. Hell, it did better than survive. It was downright delicious.
Odell The Meddler Oud Bruin
I had nearly given up on Odell's special releases, but this one was decently priced and I like to try anything new in this style. The beer was beautiful from appearance to aroma to the all-important flavors within. It paired well with whatever I was eating that night. This beer renewed my faith in Odell.
Schlafly Tasmanian IPA (TIPA)
Schlafly has been experimenting with different varieties of hops, mostly through special keg-only releases and cask ale. Still, this one was a nice little surprise. It's one of those beers that nails the hoppiness hop heads are always after, causing us to want to drink one after the other.
Millstream Great Pumpkin Imperial Stout
This is how pumpkin ale should be done. Screw the pumpkin pie and sour varieties. Put your pumpkin in an imperial stout or Baltic porter! As an imperial stout, it's not my favorite. However, it made me rethink pumpkin beers just as I was writing them off.
Treble Kicker Beer New Slang Saison
My own Saison is easily one of my favorites. I upped the ante with this year's version for my partner's tenure celebration. More lemon zest and rosemary = a punch in the face Saison that is not playing around. Add in some dry-hopped Sorachi Ace hops and you have a lemon bomb/balm that needs to brewed again and soon.
Stone 16th Anniversary IPA
This one was met with many mixed reviews, but I loved the twist this one offered some lemon verbena and rye-induced spice that made for one of the more interesting/surprising beers this year.
Deschutes Chainbreaker White IPA
Why isn't the white/wheat IPA more popular? Because no one wants to take on Deschutes' hold on hoppy beers. No one hops a beer like Deschutes. No one.
Tallgrass 8-Bit Pale Ale
This was my beer of the summer. Refreshingly hoppy goodness in a can carried me through record-setting heat, including a 30-mile bike ride.
Green Flash Rayon Vert
I'm not sure how long this beer has been around, but it made its first appearances in middle-Missouri earlier this year and I'm sure glad it did. Another twist on the IPA (this time with Belgian love), Rayon Vert became the "heavy" beer of summer.
Stillwater Debutante
What can I say that hasn't already been said before about Stillwater's excellence. I could put any of their beers on this list every year. Still, this one made its debut in 2012 and I for one welcome it to the best lineup of Saisons this side of Belgium.
Firestone Walker Wookey Jack
The Black IPA/Cascadian Dark Ale continues to dig out a niche in craft beer and Firestone's entry is no different than the best of the style.
Deschutes Chasin' Freshies
Did I mention Deschutes' mastery of the hop. This fresh-hopped IPA and its fresh-hopped APA cousin (Hop Trip) do what fresh/wet-hopped beers are supposed to: capture the essence of Dionysus' underwear… or something like that.
Mikkeller Royal Rye Wine
Most of the Mikkeller releases I enjoyed this year were not all that new to me. However, the experience surrounding the Royal Rye Wine made this possibly the most memorable beer of the year. Read more about it here.
What did I forget? What would you add? Disagree or agree with any of these?
So, Black Friday was the day I couldn't get a post out. Honestly, I was tired and a bit stuffed. It just wasn't meant to be. However, I did manage to post two placeholders and today I should be able to publish two posts. Beyond that, I think I can finish out this month. There are no promises for December, though. It might be back to three posts a week, but we'll see.
Anyway, here are my thoughts on the unofficial holiday of capitalism, Black Friday…
Can someone tell me why it's okay to camp outside a Walmart so that one can beat down their doors and mob the store, but it's not okay for Occupy Wall Street folks to do what they do? The crap that went on early yesterday morning makes me rather sick and ashamed to be an American. People make absolute fools of themselves for some cheap junk.
We tend to recognize our Black Friday with an old fashioned Buy Nothing Day. I left the house long enough to grab another holiday tradition from the local video shop, Team America: World Police. And that's how we do in this house.
However, in case you're wondering, Building International Coalitions Through Beer and Pavement does have an official stance on Black Friday. It's cool to shop on Black Friday, but if you do, it's best to go local. Your local brew pubs and record stores need you. Don't bother with Walmart or Target. Keep it local this entire holiday season, in fact.
For record stores, check the Record Store Day website. Once a single day in the spring, Record Store Day has become its own movement that can be celebrated year round. I just wish there was an actual record store here where I could celebrate. Maybe the next time I'm in St. Louis or back home in Columbus, I'll have to do some shopping.
Then, for the beer enthusiast, the Brewers Association is the place to go. I need to get down to our own brew pubs, Broadway and Flat Branch for some holiday cheer here in Middle Missouri. Check the site for the craft brewers where you live.